The Technology for Living 2021 Simon Cox Student Design Competition
Technology For Independent Living (TIL) application for services
These forms are best used with Acrobat Reader, not a web browser. If using a web browser, you'll need to save the form and email it. If using Acrobat Reader, You can simply press "Submit" and it will automatically generate an email to us. If you need assistance fill out forms please email til@technologyforliving.org or call  604-326-0175.
Automatic Door Openers
Technology For Independent Living's automatic door opener program assists individuals with high level disabilities with electromechanical access to their home door when they cannot open or close it on their own.
These forms are best used with Acrobat Reader, not a web browser. If using a web browser, you'll need to save the form and email it. If using Acrobat Reader, You can simply press "Submit" and it will automatically generate an email to us.
Environmental Control Systems (ECS)
We provide Environmental Control Systems (ECS) that assist people with high level physical disabilities to control devices in their homes and on the go. Some of these devices include:
Are You Eligible for Environmental Control Services?
We accept applications from any individual, with severe physical disabilities, who needs help accessing their home environment.
Read more
If you have difficulty, due to a physical disability, accessing any of the devices listed on this page, you may be a good candidate.
If you are unsure if you would be a candidate for our services, please take the time to apply. We have a team of technicians that can help assess your environment/situation and let you know if our services would be of benefit to you. After your initial assessment, if it is decided that our program wouldn't be a good fit for you, the technician that helped you may know of other services that would be a fit to you.
Apply for Environmental Control Systems.
Apply for Door Opener Systems
If you'd like to discuss your situation with one our technicians, before applying, please call us at (604) 326-0175.
Simon Cox Student Design Competition
Technology for Livings' Simon Cox Student Design Competition is an annual showcase of creative and assistive technology design solutions that facilitate greater independence in the home for people with physical disabilities. This challenge is open to students enrolled in a BC technical college or undergraduate program at a BC University. Students represent a wide variety of disciplines including biomedical engineering, architecture, and design
The competition celebrates innovation and impacts lives by creating practical solutions to problems. Students and members collaborate to create advancements in assistive technology providing adaptive solutions to increase the independence and enhance the quality of life for people with physical disabilities. The active participation of end-users is essential during the design phase
Entries are judged on innovation, benefit to persons with disabilities, craftmanship of the working model quality of presentation and utilization of PEERs.
Past winners have continued on to become leaders in the field of assistive technology.
Teams demonstrate their project ideas  with a video or live presentation, competing for $5500 in total prize money available for top presenters May 2nd, 2021. Visit the new Simon Cox website here
Member -Centered Services
Once your application has been approved, one of our technicians will work with you, and your care team, to set up the Environmental Control Systems in your home. Should your equipment ever need changing, updating, or servicing, one of our technicians will work with you to make your system work for you as soon as possible.
Service Costs for the Technology For Independent Living Program
Services are delivered at no cost for most of our members; this includes assessment, installation, and repairs. Our services are funded by the Ministry of Health and our equipment is funded by donations and community grants. We acknowledge the financial assistance of the Province of British Columbia.
Community Program Partner
The Technology For Independent Living Program acts as one part of the rehabilitation team for a person living with a high level physical disability. Not only do we work closely with our members, but we also work closely with GF Strong Rehabilitation Centre, community health centres, and similar agencies throughout the province, to provide the best services available to our members.
Technology For Living Peer Group
We are especially proud of the Technology For Living Peer Support Group. They are a diverse group of members, using both programs provided by Technology For Living, the Technology For Independent Living Program, and the Provincial Respiratory Outreach Program. These are peers who know what it's like to live with a ventilator, transition from an institution to the community, and live with a disability. To contact the Peer Support Group, please email us or call us toll-free at 1-866-326-1245.
Idea Generation
Here at Technology For Living we are always looking for new ideas that afford more independence to our members. We work alongside our members to improve existing technology, often with their invaluable input during the whole production cycle. Are you a member, an engineer or an advocate with a brand new idea to share? You can find information how to contact us here and see how you can go from idea to product working with TIL.
Some of the equipment we provide
The technicians working in our Technology for Independent Living program (TIL), use a variety of electronic devices to assist you in accessing your home environment. Although the technical setup from home to home, can vary quite a bit, here are some of the most commonly used devices.
Google Home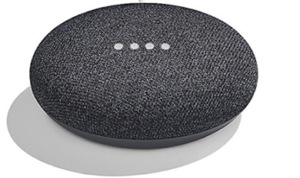 Google Home is a smart speaker used as a central hub for smart appliances. Our members can speak to Google Home to control the various smart devices in their home. Also, it allows our members to have their questions answered through the Google search engine. For example, our members will be able to ask Google Home about various conditions outside (weather, traffic conditions, etc.) Our technicians will set up Google Home and the smart appliances for our TIL members .
TP-Link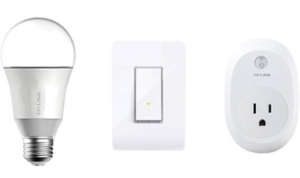 TP-Link is a brand of networking products that manufactures smart devices. These devices are compatible through the TP-Link smartphone application or with Google Home. TP-Link products allow for greater environmental control by centralizing appliance control to a single smart device. The degree of control depends on the appliance (e.g. on/off, bulb brightness, etc.) Common TP-Link products that TIL provides include: smart lightbulbs, smart plugs, and light switches.
Harmony Hub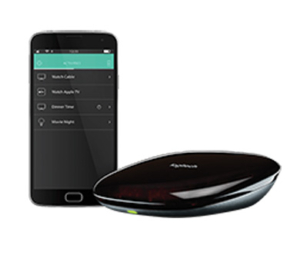 Harmony Hub is a universal remote designed for controlling devices that use infrared or smart technology. Harmony Hub is controlled via smartphone application. It allows our members to control their home environment through their smart phone/tablet. Harmony Hub is also compatible with Google Home, allowing our members to use their voice for home environmental control.
Chromecast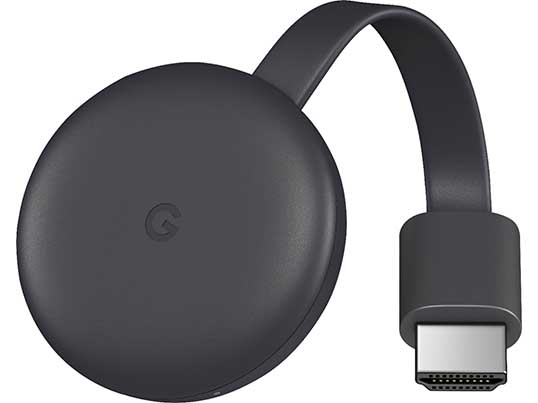 Chromecast is a digital media player, developed by Google, that allows streaming from your phone/computer/tablet or from content providers like Netflix, YouTube, Disney+, and more. TIL technologists can setup Chromecast, along with a Google Nest Mini, so our members can stream their favourite shows and movies using their voice. Using this setup, our members can also turn their tv on/off, adjust the volume, and use media controls (fast forward, rewind, pause, etc).
Smart Thermostats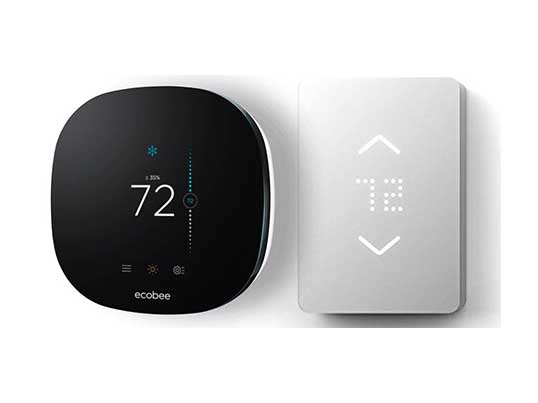 Smart thermostats are thermostats that can be controlled using a smartphone, tablet, computer and/or voice. At TIL, we offer 2 smart thermostats for our members to use…the Ecobee 3 Lite (low voltage/furnace) and the MYSA (high voltage/baseboard heater). Once setup, our members are able to adjust the temperature right from their smart device, or through their TIL-provided Google Nest Mini.
*Members are responsible for having the thermostat installed in their home.
Nest Hello Doorbell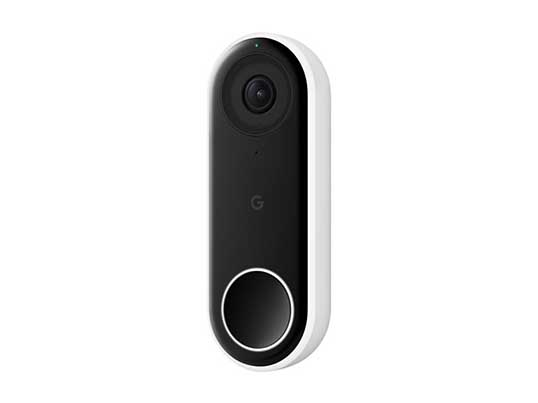 The Nest Hello doorbell is a smart doorbell developed by Google. Once installed by a TIL technologist, our members can see who is at their door, either on their smart device or TV with TIL Chromecast installed, adding a layer of security and independence when at home. Once our members know who is at their door, they can use their TIL provided door opener or August Lock to let friends and family in.
August Lock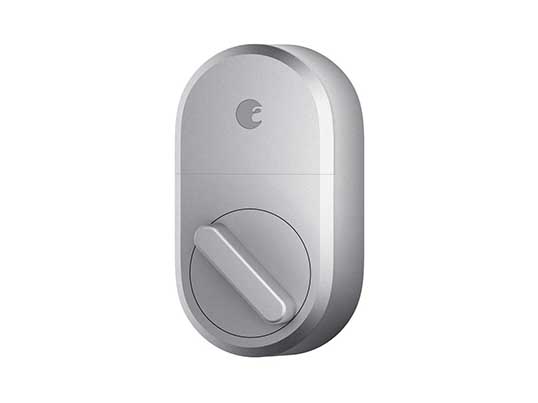 August Lock is a smart deadbolt lock that retrofits to your existing door lock so you can still use your original key, but with the August lock installed, you can also operate your door lock using any smart device or your voice with Google Nest Mini. Once installed by a TIL technologist, our members that do not have an automatic door opener, can now lock and unlock their door using their voice or phone.
SwitchBot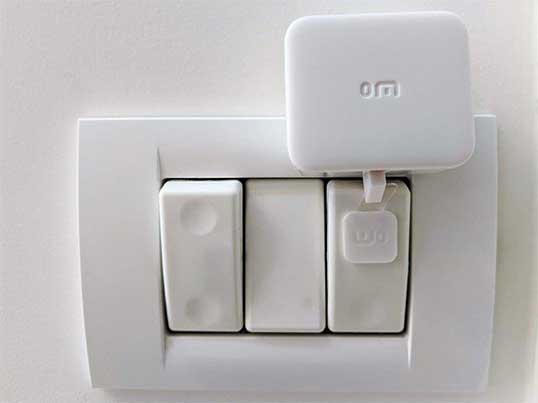 SwitchBot is a small smart device that, when activated using Google Nest Mini or a smart device, extends a small mechanical arm to press a switch or button…making many typical household items "smart". TIL members often find SwitchBot's helpful in turning on/off lights if they have a rocker style switch and have old wiring (no neutral) as most other smart light switches require a neutral wire. If a member does not have the ability to install TIL TPLink Kasa light switches, a TIL technician can install Switchbot's for lighting control instead.
Soma Blinds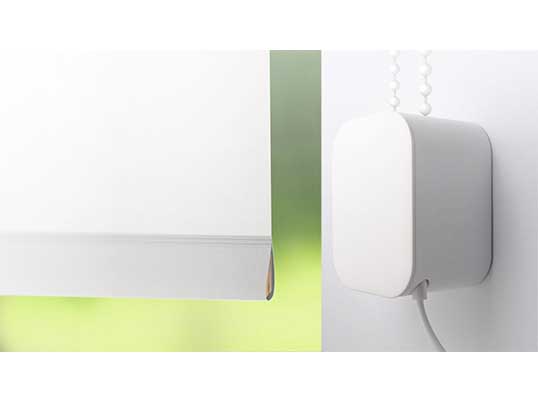 Soma Blinds are a line of retrofitted blind controllers that make our members blinds "smart", allowing our members to control their blinds using their smart device or through their TIL provided Google Nest Mini. TIL technologists will install the appropriate Soma blind control (tilt wand, corded loop, or beaded loop) along with a small solar panel or our members never have to charge their Soma Blinds.
Pressure Sensitive Switches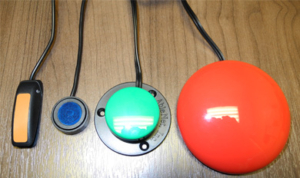 Our members use a variety of switches to control their environment, including, but not limited to, TV, audio/video devices, attendant call systems, lights, fans, smartphones, etc. The appropriate switch is very much based on member preference, but also on the member's ability and environment.
The ultralight switch (orange/left), for example, is very compact and very sensitive, which our members appreciate, but when used in certain environments can be accidentally activated by other factors (blankets, clothing, etc).
Puff Switch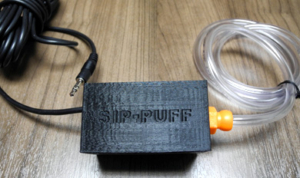 Sip n Puff switches are built by team members of the Technology of Independent Living (TIL) program, on site, using 3D printing, sensitive pressure transducers, and various other supplies.
To better access the Sip n Puff switch, our technicians will mount the clear tube in a position that is easy to use for the member, whether on a wheelchair or at bedside.
Environmental control systems
GEWA Control Prog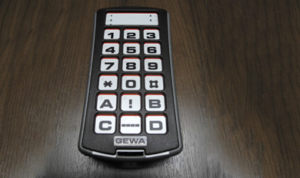 The Gewa Control Prog is a programmable infra-red remote control, that allows for switch control. It allows our members, using 1 or 2 switches, to use the Gewa to control their TV, audio/video equipment, phone, attendant call, lights, fans, etc.
Our technicians can mount the Gewa and switch(s), on the members bed or wheelchair, to allow for effective member access.
Tash Mini Relax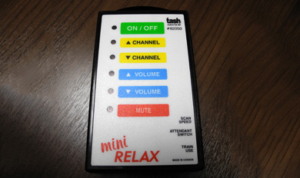 Similar to the Gewa Control Prog, the Mini Relax is also a programmable infra-red remote control that allows switch control. The big difference between the two devices is that the Mini Relax is a much simpler device to operate, as it only allows for 6 functions, as opposed to the 241 functions available on the Gewa remote.
The mini relax is a great device for TIL members that prefer or require a more simple setup, with only a few functions.
Chameleon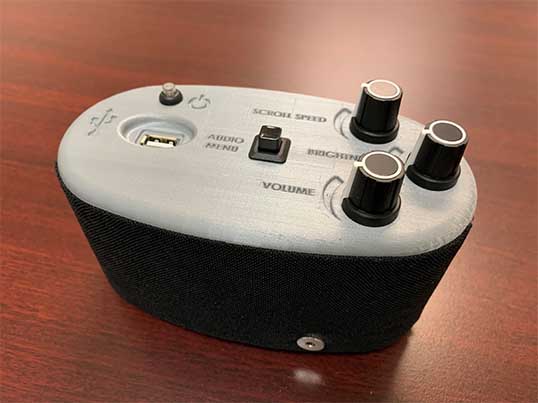 The Chameleon is a device, collaboratively developed by TIL and BCIT Biomedical Engineering Technology students, that allows TIL members with limited voice ability to operate 30 Google Nest Mini functions using a single switch. Using an ability switch, the TIL member selects a function (ie: Rock Music), then the Chameleon says a preprogrammed message to Google Nest Mini (ie: Hey Google, play some rock music.). The Chameleon is fully programmable, including google commands, scanning speed, volume and brightness.
Bed Control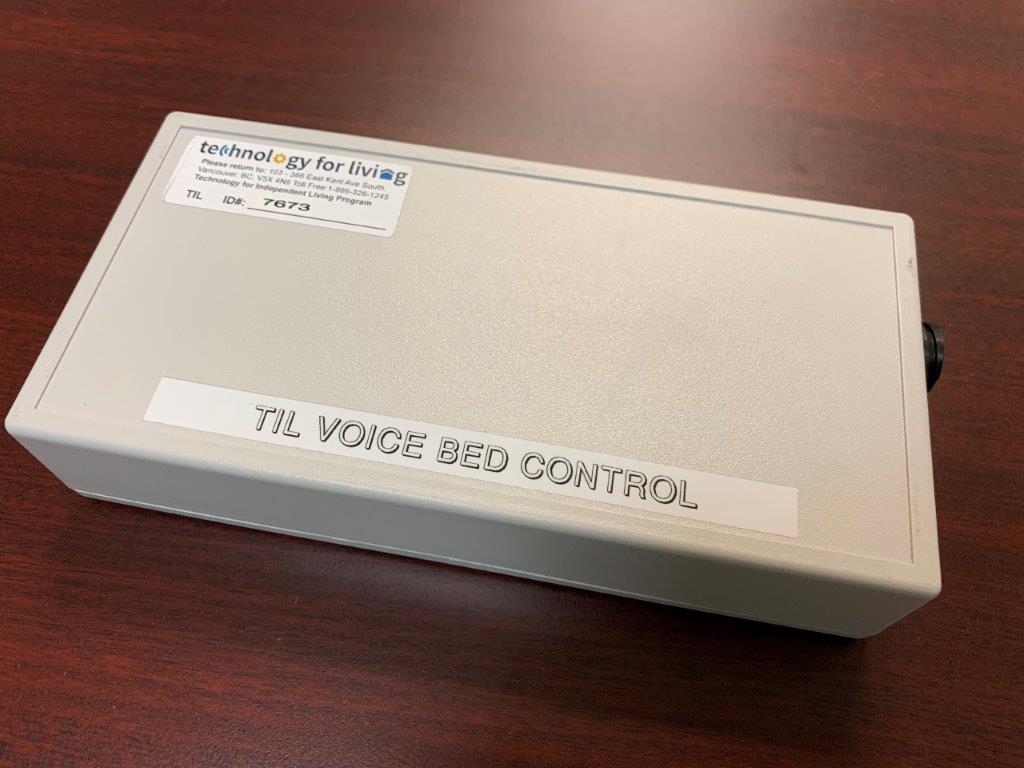 TIL's Bed Control was developed by TIL after realizing there was a need for members to independently control their bed. Depending on our members bed make and model, their bed functions could be controlled by voice, their smart device, or using a single switch to scan the bed functions.
*TIL's Bed Controls are not available for use on all beds, but TIL technologists can do a quick assessment to see if it will work for our members.
Attendant Call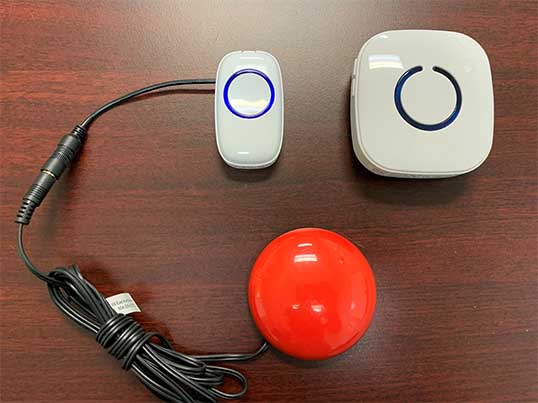 TIL's Attendant Call is a wireless device that, when activate by an ability switch, rings a chime or song in another part of the home.
*TIL's Attendant Call is mean to increase independence within the home, but should not be used as an emergency callbell!  For emergency call needs, TIL members should contact a company that provides emergency call services.
Serene RCx Speakerphone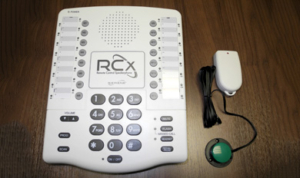 To make a call, simply press the pendant remote, or the TIL switch plugged into it, and the phone will start scanning through the pre-programmed numbers. Once the number you want to call is highlighted, activate the pendant again and the number will be dialed.
GewaTel 200 Speakerphone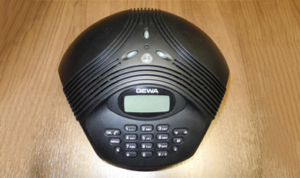 Smartphone and Tablet Control
Adapted Bluetooth Headset