TIL application for services
Automatic Door Openers
TIL's automatic door opener program assists individuals with high level disabilities with electromechanical access to their home door when they cannot open or close it on their own.
Environmental Control Systems (ECS)
We provide Environmental Control Systems (ECS) that assist people with high level physical disabilities to control devices in their homes and on the go. Some of these devices include:
Are You Eligible for Environmental Control Services?
We accept applications from any individual, with severe physical disabilities, who needs help accessing their home environment.
Read more
If you have difficulty, due to a physical disability, accessing any of the devices listed on this page, you may be a good candidate.
If you are unsure if you would be a candidate for our services, please take the time to apply. We have a team of technicians that can help assess your environment/situation and let you know if our services would be of benefit to you. After your initial assessment, if it is decided that our program wouldn't be a good fit for you, the technician that helped you may know of other services that would be a fit to you.
Apply for Environmental Control Systems.
Apply for Door Opener Systems
If you'd like to discuss your situation with one our technicians, before applying, please call us at (604) 326-0175.
Client-Centered Services
Once your application has been approved, one of our technicians will work with you, and your care team, to set up the Environmental Control Systems in your home. Should your equipment ever need changing, updating, or servicing, one of our technicians will work with you to make your system work for you as soon as possible.
Service Costs for the Technology for Independent Living Program
Services are delivered at no cost for most of our clients; this includes assessment, installation, and repairs. Our services are funded by the Ministry of Health and our equipment is funded by donations and community grants. We acknowledge the financial assistance of the Province of British Columbia.
Community Program Partner
The Technology for Independent Living Program acts as one part of the rehabilitation team for a person living with a high level physical disability. Not only do we work closely with our clients, but we also work closely with GF Strong Rehabilitation Centre, community health centres, and similar agencies throughout the province, to provide the best services available to our clients.
BCITS Peer Group
We are especially proud of the BCITS Peer Support Group. They are a diverse group of clients, using both programs provided by BCITS, the Technology for Independent Living Program, and the Provincial Respiratory Outreach Program. These are peers who know what it's like to live with a ventilator, transition from an institution to the community, and live with a disability. To contact the Peer Support Group, please email us or call us toll-free at 1-866-326-1245.
Idea Generation
Here at BCITS we are always looking for new ideas that afford more independence to our members. We work alongside our members to improve existing technology, often with their invaluable input during the whole production cycle. Are you a member, an engineer or an advocate with a brand new idea to share? You can find information how to contact us here and see how you can go from idea to product working with TIL.
Some of the equipment we provide
The technicians working in our Technology for Independent Living program (TIL), use a variety of electronic devices to assist you in accessing your home environment. Although the technical setup from home to home, can vary quite a bit, here are some of the most commonly used devices.
Google Home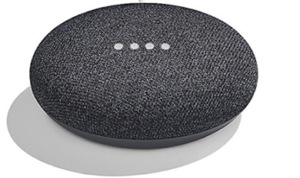 Google Home is a smart speaker used as a central hub for smart appliances. Our clients can speak to Google Home to control the various smart devices in their home. Also, it allows our clients to have their questions answered through the Google search engine. For example, our clients will be able to ask Google Home about various conditions outside (weather, traffic conditions, etc.) Our technicians will set up Google Home and the smart appliances for our TIL clients.
TP-Link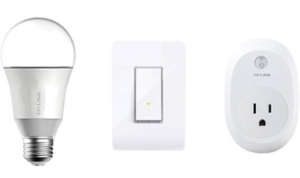 TP-Link is a brand of networking products that manufactures smart devices. These devices are compatible through the TP-Link smartphone application or with Google Home. TP-Link products allow for greater environmental control by centralizing appliance control to a single smart device. The degree of control depends on the appliance (e.g. on/off, bulb brightness, etc.) Common TP-Link products that TIL provides include: smart lightbulbs, smart plugs, and light switches.
Harmony Hub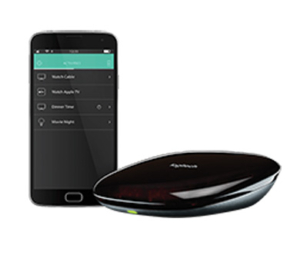 Harmony Hub is a universal remote designed for controlling devices that use infrared or smart technology. Harmony Hub is controlled via smartphone application. It allows our clients to control their home environment through their smart phone/tablet. Harmony Hub is also compatible with Google Home, allowing our clients to use their voice for home environmental control.
Pressure Sensitive Switches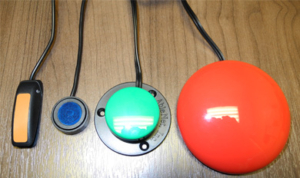 Our clients use a variety of switches to control their environment, including, but not limited to, TV, audio/video devices, attendant call systems, lights, fans, smartphones, etc. The appropriate switch is very much based on client preference, but also on the client's ability and environment.
The ultralight switch (orange/left), for example, is very compact and very sensitive, which our clients appreciate, but when used in certain environments can be accidentally activated by other factors (blankets, clothing, etc).
Puff Switch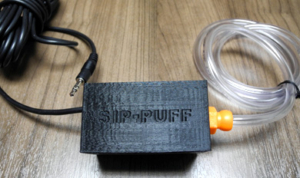 Sip n Puff switches are built by team members of the Technology of Independent Living (TIL) program, on site, using 3D printing, sensitive pressure transducers, and various other supplies.
To better access the Sip n Puff switch, our technicians will mount the clear tube in a position that is easy to use for the client, whether on a wheelchair or at bedside.
Environmental control systems
GEWA Control Prog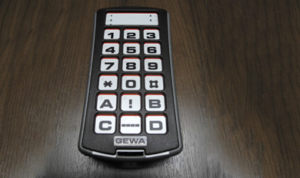 The Gewa Control Prog is a programmable infra-red remote control, that allows for switch control. It allows our clients, using 1 or 2 switches, to use the Gewa to control their TV, audio/video equipment, phone, attendant call, lights, fans, etc.
Our technicians can mount the Gewa and switch(s), on the clients bed or wheelchair, to allow for effective client access.
Tash Mini Relax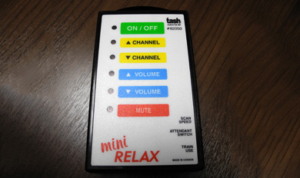 Similar to the Gewa Control Prog, the Mini Relax is also a programmable infra-red remote control that allows switch control. The big difference between the two devices is that the Mini Relax is a much simpler device to operate, as it only allows for 6 functions, as opposed to the 241 functions available on the Gewa remote.
The mini relax is a great device for TIL clients that prefer or require a more simple setup, with only a few functions.
Serene RCx Speakerphone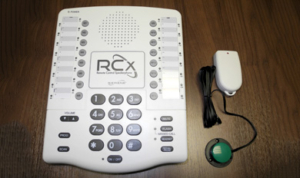 To make a call, simply press the pendant remote, or the TIL switch plugged into it, and the phone will start scanning through the pre-programmed numbers. Once the number you want to call is highlighted, activate the pendant again and the number will be dialed.
GewaTel 200 Speakerphone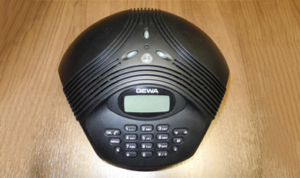 Smartphone and Tablet Control
Adapted Bluetooth Headset